The U.P.U. established a basis for a special service to speedily deliver mail for an extra fee in 1885. The United States issued the first express stamp on October 1, 1885; only 555 first class post offices provided service. On October 1, 1886 service was extended to all offices. In late 1888, the text tablet changed to "at any office", to reflect the availability of the service beyond first class offices. The United States issued eleven collector recognized stamps during its first 37 years. Only 12 additional stamps were issued during the final 75 years of this service. During the life of the Special Delivery service there were nine basic designs and 5 designs for a combination of services which included airmail.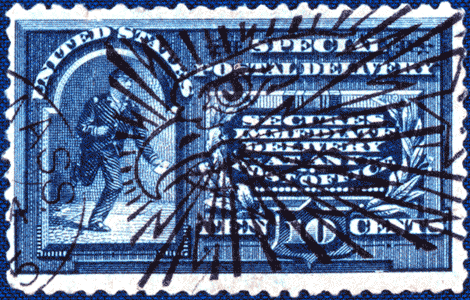 We hope this primer provides you with an appreciation of the subject and encourages you to study the field of Special Delivery as there are still discoveries to be made and fun to be had. You may wish to refer to the Special Delivery Introduction, a presentation made at the Garfield-Perry club for more information on the issues.

Additionally, two general exhibits on the subject of United States Special Delivery service covering specific year periods - 1885-1917 and 1922-1997 and four specialized exhibits are presently on the exhibiting circuit - 'The Merry Widow' issue of 1908, 'The Truck' designs of 1925 & 1951, Airmail Special Delivery combination issues of 1934-1935 and the Bi-color Airmail Special Delivery combination issue of 1936.

Special delivery mail was squeezed out by Express Mail on June 7, 1997, significantly ending on the last day of the Pacific 1997 International Stamp Show in San Francisco, California.
The Postage Stamp Issues
The first United States Special Delivery stamp design incorporated the likeness of a messenger boy on foot to indicate a speedy delivery.
Issue of 1885
Only 555 domestic first class post offices initially provided service. On October 1, 1886 service was extended to all first class post offices.
Issue of 1888
In late 1888, the text tablet changed to "at any office" to indicate expanded use of the service to 4000+ post offices.
Issue of 1893
In February, 1893 the stamp's color changed to orange to avoid confusion with the one cent 1893 Columbian issue.
Issue of 1894
The Bureau of Engraving and Printing, modifying the American Banknote Co. dies, printed Special Delivery stamps using an unwatermarked paper, perforated 12 in October, 1894.
Issue of 1895
The Bureau of Engraving and Printing, due to perforating difficulties and paper shrinkage during printing, switched to a double line watermarked paper, improving printing quality. The color returned to the familiar ultramarine.
Issues for Possessions
The issue of 1895 was overprinted for use in Cuba, Guam and the Philippines.
runner | bike | widow | motorcycle | truck | hands | arrows | seal
A special electronic version of this article is available here.
The file is in Adobe .pdf format and is 266kb in size.
Additional items of interest may be:
Garfield Perry Stamp Club Presentation
U.S. Special Delivery Bibliograhy (.pdf - 596kb)